Tour Review: Hellogoodbye Light Up Boston's Middle East Club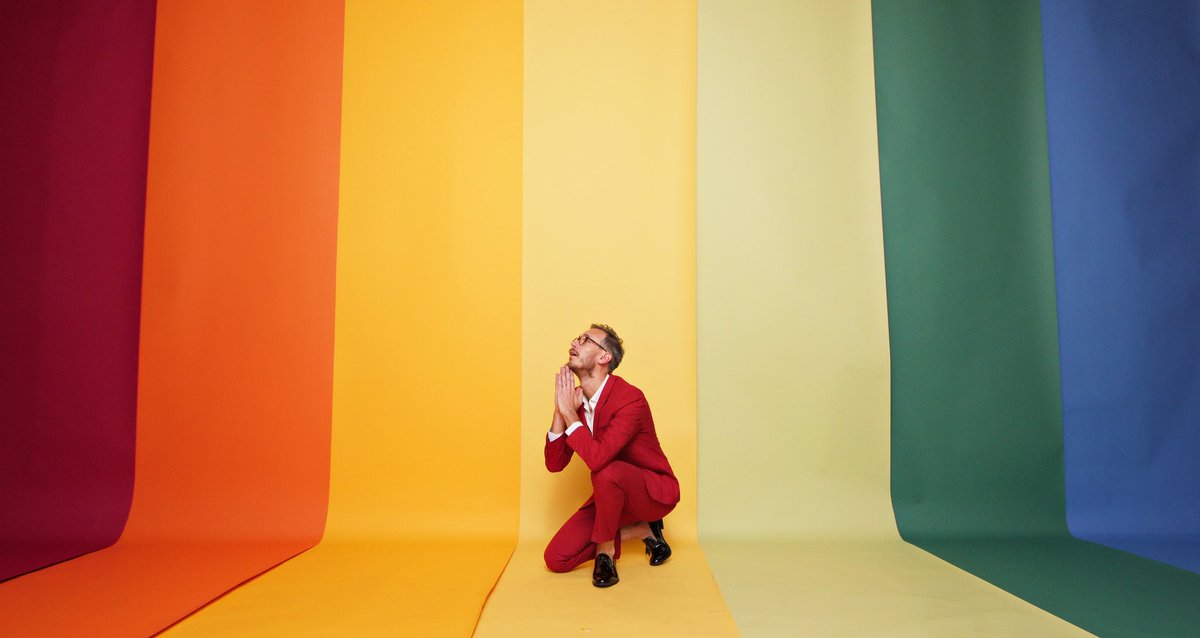 Image courtesy of @itshellogoodbye on Twitter
Hellogoodbye
are in the midst of a Renaissance. The Los Angeles-based band, active since 2001, first saw immense success with 2006's
"Here (In Your Arms),"
but after 2013's
Everything is Debatable
took time to reflect. Their latest offering, October's
S'Only Natural
, felt exactly that: a true, natural ode to the human condition. With the release came an ambitious
national tour
, spanning twelve cities in just under two weeks. I was lucky to catch the Boston tour stop, one of only a few that hadn't sold out in a matter of weeks. Read on to see what a show in "Club Forrest" has to offer, and make sure to snag tickets to upcoming shows before they're gone!
this and all subsequent images courtesy of the author
As the sun set over Cambridge, one of Boston's many affiliated cities, the vibe inside the Middle East Downstairs was dive bar meets 80s club. Framed within a trapezoidal room dotted with fold-out tables, the deep-set stage brandished a shimmering technicolor backdrop, albeit slightly jarringly in the context of the otherwise unassuming venue. While the entire scene was a departure from many of Boston's other, larger venues, there was the unmistakable feeling of being at home that's special to the music scene. Somehow, all of us, no matter our background or typical scene, were united not only by the low ceilings and old school jazz-rock blaring through the haphazardly stacked speakers but also by a universal love of live music. Even before the show could begin, there was so much unbridled joy, so much community, and so much
life
that it was impossible to deny the power and beauty of music.
A fashionable five minutes after 8 PM, Philadelphia band
Suburban Living
took the stage, decked out in beanies and cuffed denim galore. We here at Suburban Rose, of course, are partial to the parallels the band shares with us, but musically they would have been just as invigorating and uptempo by any other name. They played track after track of synth-tinged garage rock, like a cross of the best of Silversun Pickups and
Born in the USA
-era Springsteen. Suburban Living defied construct and walked the line between modern pop punk and pure alt-rock without ever missing a beat. Every detail, even down to the guitar that was hand-emblazoned with "No KKK No Fascist USA," seemed simultaneously effortlessly cool and pointedly independent. In one instance, between two particularly poignant songs, the band took a moment to joke with the audience, taking one fan's praise and joking about the soccer moms of days of yore before continuing through their powerhouse of a set. The pause made the minuscule room feel even closer; we were all now like old friends, reveling in the music discovery unfolding before us.
Suburban Living
Family of Geniuses & Special Guest, President Obama
When a band's stage props feature a poster of a young Barack Obama and their pre-show playlist features your favorite band, you know it'll be a memorable evening. Those were the first impressions
Family of Geniuses
gave, and they certainly lived up to the hype. On stage, the Chicagoans radiated pure energy and excitement. Even as the Middle East filled in with music fans, Family of Geniuses continued to excite and surprise, making every song a journey through euphoria. Anyone who goes to regular shows can attest to the difficulty of finding an opener that manages to captivate and interest audiences beyond holding attention. Yet this band did just that--and more. Their soaring, shining sounds topped with distorted vocals could match the energy levels of the most rambunctious toddler, and their multitude of tambourine jam sessions was surprisingly enthralling. The minutes seemed to melt away, as covers and originals interwove new and old in refreshing ways. To see such talent and raw passion for music was inspiring, and as Family of Geniuses ended their set, it was hard to ignore the bittersweet feeling of it all.
As drum sets were shuffled and instruments tuned, the night's final motif was revealed. The colors in the room intensified, and the massive pile of bejeweled fabric previously sitting in the corner of the stage was now strewn across tables holding synths and a laptop. It became clear before their set even started that Hellogoodbye are loud, proud, and not afraid to make a statement, and it worked immensely to their success. The atmosphere was an unparalleled sense of acceptance and openness, an homage to the possibility of world peace.
Right on schedule, Hellogoodbye took to the stage at ten. With the whispering sounds of "Honeymoon" leading into
S'Only Natural
's title track, the show instantly mirrored the track listing of the album. After a loud, triumphant rendition of "You've Got an Expensive Heart," the band took some time to revisit crowd favorites from 2010's
Would It Kill You?
Laments about aging segued perfectly into "Getting Old," while "When We First Met" and "When We First Kissed" beckoned back to simpler times. The idealism and pure joy the songs encapsulated made the Middle East Club feel like a home away from home, a space where all of us could live, breathe, and celebrate without repercussion.
More tender moments cropped up throughout the set. Between the crowd crooning in a rendition of "Close" and later acoustic encore features of throwback classic "Shimmy Shimmy Quarter Turn" alongside "Mysterious You," Hellogoodbye were able to deftly balance the natural flow of energy in their discography.
Other highlights of the show included the ethereal "Let It Burn," a
S'Only Natural
single that grooved and slowly kindled the audience, as well as the trifecta of hits "Just Don't Let Go Just Don't" into the infamous "Here" to "(Everything Is) Debatable," all of which elicited a series of whoops and hollers. To wrap it all up was the catharsis of "Finding Something to Do," an ode to nonchalance and nostalgia off of
Would It Kill You?
that reverberated even more with the echoes of hundreds of fans singing along. The show was a diamond in the rough, shining through even the darkest corners of the city. If rock 'n roll can do any good in the world, Hellogoodbye are the exemplars, and this show was truly a testament to that.