Review: Is "Love It If We Made It" by The 1975 Starting a Revolution?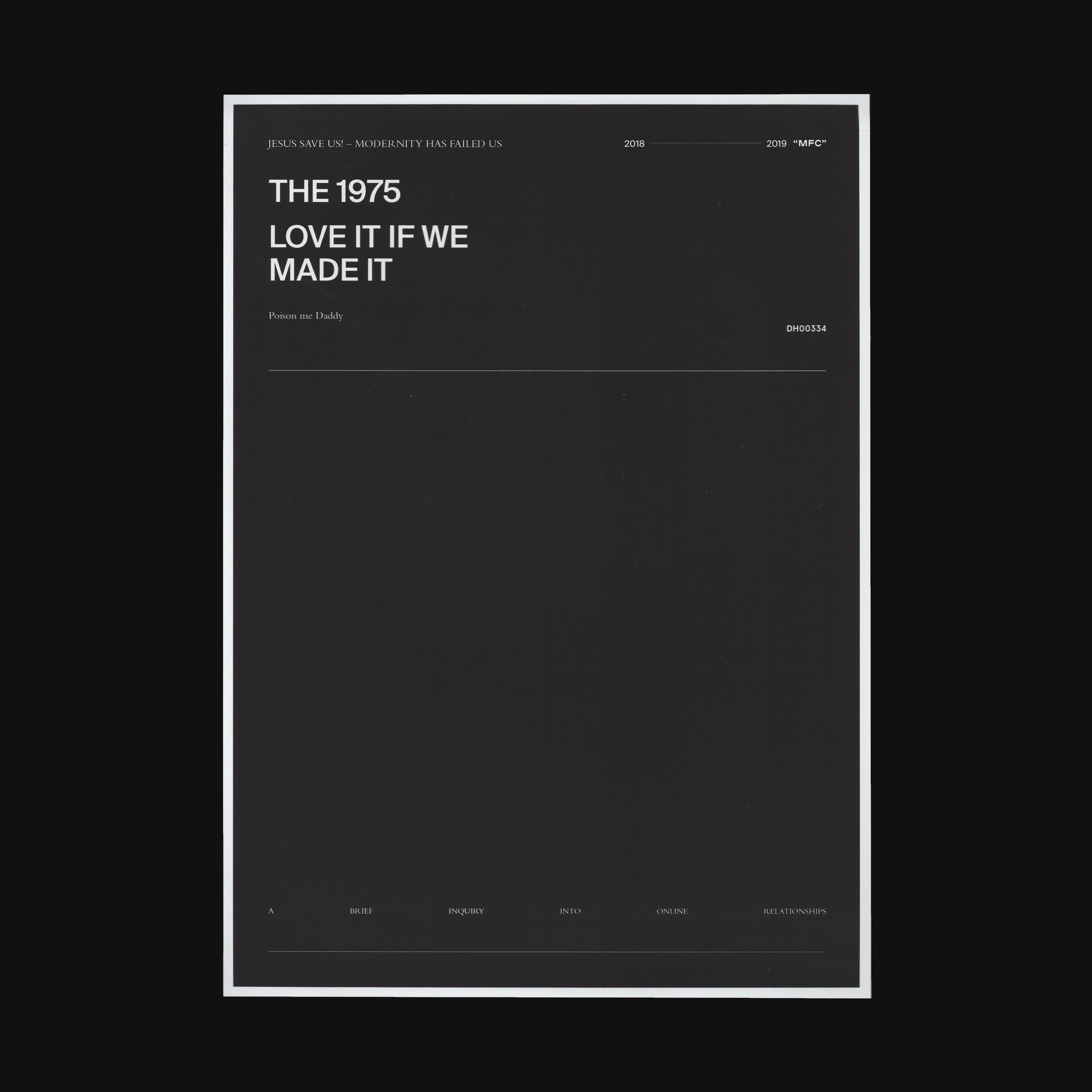 It is widely known that a mind can be heard by everyone, even if it physically remains silent. Music is the means to do so. Satire, challenge, and black humour are all elements that are present and persistent within
The 1975
's new single, "
Love It If We Made It
." It is the second track off their third album,
A Brief Inquiry Into Online Relationships
, which will be out in October of this year.
Pop culture of the last thirty years is embodied in this fresh track, which aims to follow the steps of its predecessors:
Green Day
,
Rage Against The Machine
,
U2
. These are artists who concentrated their entire career on creating a healthy yet deeply political musical cloud, and seeing that a "newer" band like The 1975 is putting effort in making their voices immortal is eye-opening.
The song starts with a calm string symphony but explodes later with Matty Healy's voice when he sings,
"We're fucking in a car / shooting heroin / saying controversial things just for the hell of it."
There clearly has been a lyrical evolution in the band's production since their last album, and I don't know if it was due to personal experiences or simply to a professional awakening, but it is now possible to see their true identity.
All of these cryptic messages, this mystery surrounding the four musicians from Manchester, are finally shaping themselves into what the
Music For Cars
era will be. It is the perfect conclusion to the tripartite route The 1975 chose to guide their fans through. This song is the metaphysical representation of a socio-political protest, made by strong and heavy words that are paradoxically more unburdened if taken out of context. We all know what is happening around the world: a compromised prison system; pointless wars fought in the name of freedom that are instead being smothered by gratuitous hatred, racism, and cultural appropriation; a return to the segregation of black men; and the wicked leadership that America is dealing with. Healy and the other band members really take these matters to heart. The passion and grueling misery Healy sings with is clear proof that he is not afraid of the world
—
he is only worried and angry.
"And we can find out the information access / all the applications that are hardening positions based on miscommunication. / Oh! Fuck your feelings! / Truth is only hearsay, we're just left to decay / modernity has failed us."
The pounding drums and what seems like a game of electronic sounds accompanies the declaration of disappointment in what today's society has become. Has anyone noticed that we are not able to have a conversation anymore? How do we know what is right or wrong? How can we say that humanity is still here when people still want to close the ports and let three-year-old immigrant humans drown? The sense of communion died when discussing "
dragon energy
" became more important than discussing who has to live or die. Humans have to stop feeling to keep existing.
The perception the lead singer has of himself is that of a stranger who's
"got the jones right through [his] bones,"
who watches as the world falls apart from a car. His words may stay unheard, almost as if he wrote them
"on a piece of stone"
that he threw in the ocean. Not even religion can save us, but the poetry in the streets maybe can. Healy's voice stays restrained through most of the song, but the highest emotional peak is reached when he quotes President Donald Trump, screaming,
"I moved on her like a bitch!"
Femininity is mustered against this figure, and Healy is the spokesman.
"Consultation / degradation / fossil fueling / masturbation / immigration / liberal kitsch / kneeling on a pitch."
Today's highlighted characters are lost in a vortex of materialism, busy playing with themselves and degrading those who have a different opinion. Consultation is not contemplated anymore, and thanking Kanye for everything seems to be the only possible solution for a temporary relief.
"Tell me something I didn't know,"
he says after an instrumental break constellated by sounds present in older tracks such as "
Settle Down
," "
The Sound
," and "
Heart Out
." I believe that what was meant here was a provocation against the system. The band detached themselves from the first single "
Give Yourself A Try
" because there are more things to say now. They wanted to put under everyone's nose the hard truth:
"War has been incited and guess what? You're all invited."
Lil Peep is now dead, and hope is long gone; the only thing left is revolution. The 1975 really outdid themselves with this song, simple from a melodic point of view but much more intrinsic content-wise. Healy spits haunted and tormented lyrics with such levity that it seems like a breakup song.
There isn't much left to say because The 1975 has already said everything. They are finally doing it right. They are using the voice they earned to denounce the bad. Even if it won't make a substantial difference in the "outside world," it certainly did leave a sign in our hearts and minds by dragging out of the darkness some of the problems everyone was scared to expose.
"
Humankind is saved not because it is worth saving, but because the righteousness of a few justifies the existence of the rest.
"
-
Jonathan Safran Foer